A Survival Knife is the most important piece of gear in any outdoorsman's backpack, hunting gear or fishing tackle. It is also essential for every survival kit and bugout bag. The best survival knives have a comfortable, slip-free grip, and the ability to handle whatever cutting or chopping task you throw at it. Here at CHKADELS.com, we take preparation seriously, so we offer a wide variety of survival knives that you can count on in a critical or life-threatening situation. Many of our knives include survival necessities, including survival kits, built-in compasses, and sawbacks. Here are five of our customer favorites!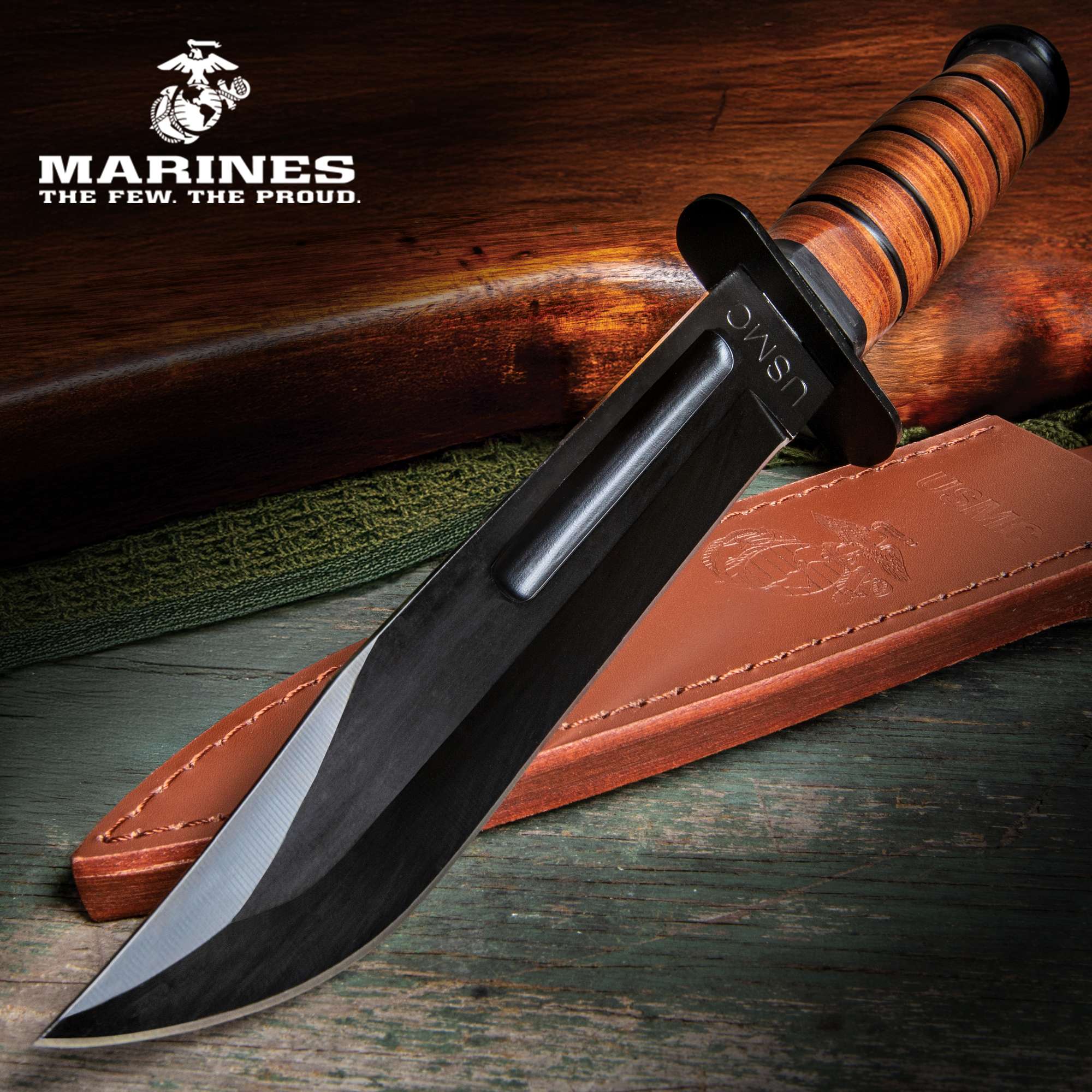 When you're talking about survival knives, you have to start with a classic and you can't get more classic than the USMC Combat Fighter Knife. Officially licensed by the United States Marine Corps, this fixed blade knife has the genuine stacked leather handle just like the knives traditionally carried by Marines in battle. The massive stainless steel clip point blade has a heat-treated, non-reflective finish, making it a rock solid cutting and chopping tool, which is what you're looking for in a survival knife. Bookending the slip-free handle, are a cast handguard and pommel, which makes a pretty decent hammer for minor jobs, in a pinch. A tried and true design that's been battle-tested is what you're getting with the USMC Combat Fighter Knife.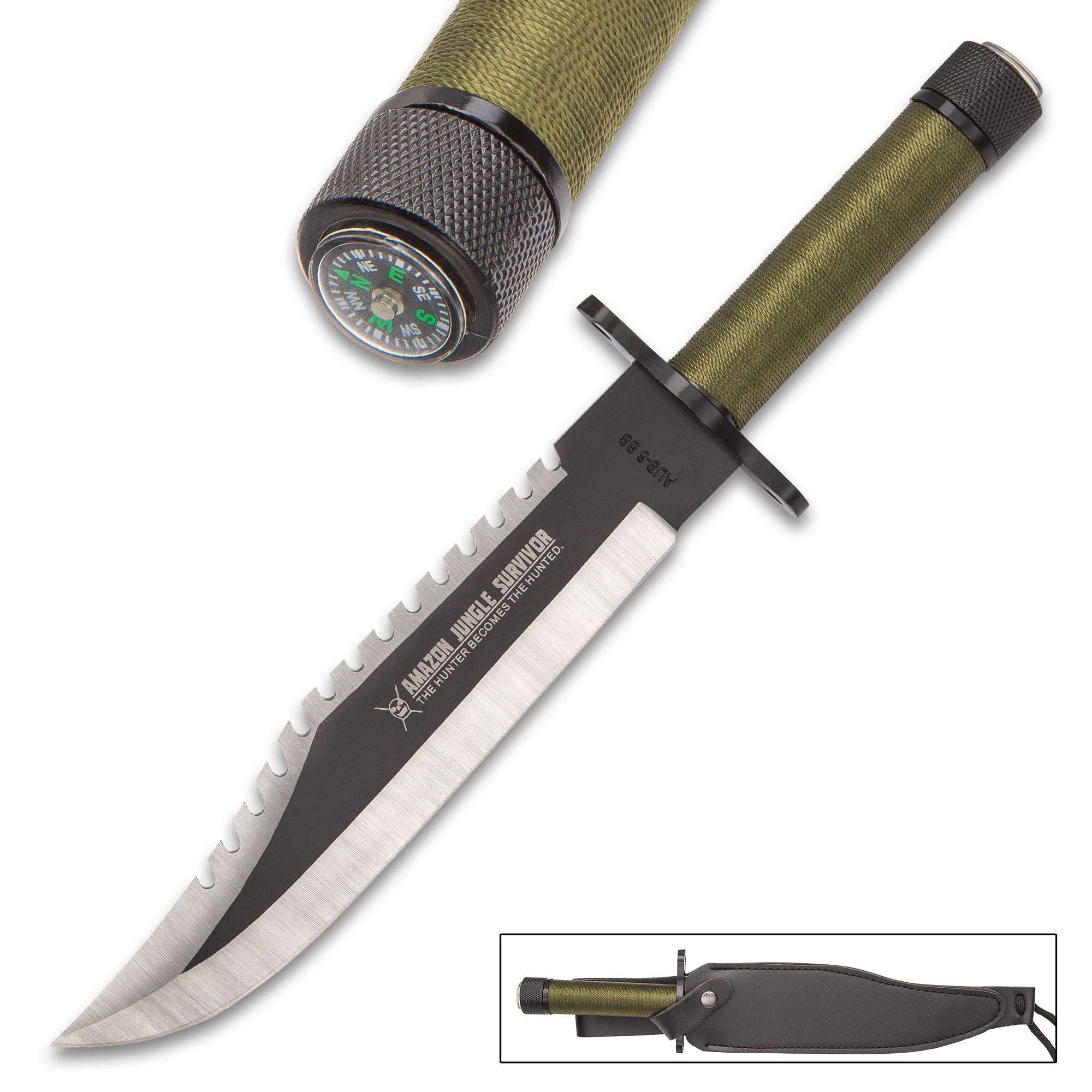 The Amazon Jungle Survival Knife is a fixed blade that keeps us busy restocking and restocking! It has so many integrated survival features that make it appealing to hard-core survivalists and avid outdoorsman alike. Starting with the beefy, corrosion-resistant stainless steel blade, you're getting a double-duty slicing and sawing tool. The edge is razor-sharp from point to ricasso, giving you plenty of cutting real estate, and the rugged sawback spine will make quick work of small branches and limbs. The handle is wrapped in tough twine, giving it a comfortable grip but also giving it another survival tool that can be unwound and used. The pommel of the handle has a built-in compass and when you unscrew it, you'll find a mini survival kit tucked inside. The kit has all the essentials including matches, fishing line, a hook, needles and thread, a safety pin, and striking paper. And if that's not enough to give the Amazon Jungle Survival Knife a gold star, just check out the handguard with its two holes that allows you to turn the fixed blade into a survival spear by simply lashing it to a pole or a suitable branch!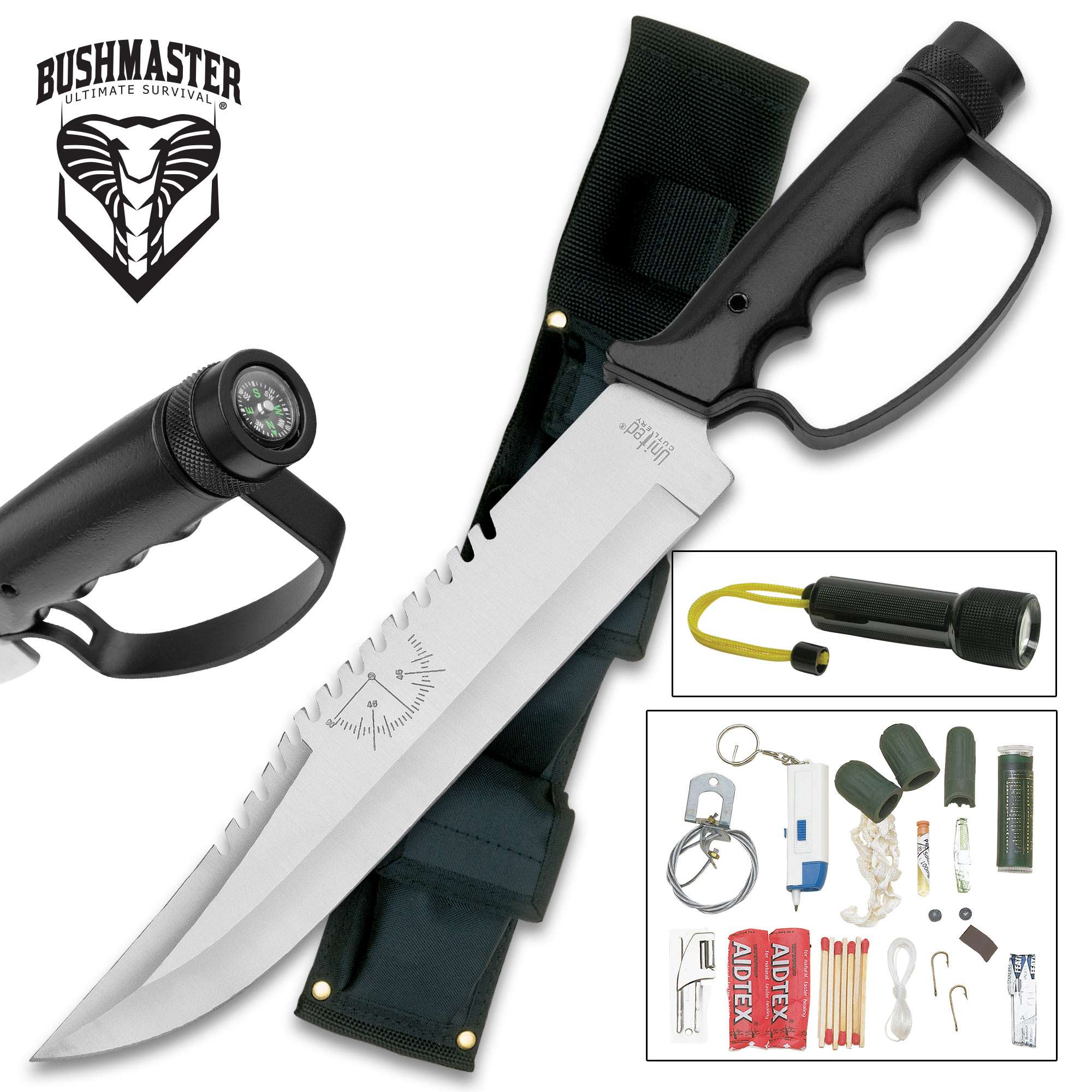 When it comes to survival tools, the Bushmaster brand is at the top of my go-to list for tough equipment that will stand up to any environment or weather condition. The Bushmaster Ultimate Survival Knife will have you covered in any intense situation, whether you're braving the Amazon or simply out on the hunting trail. This fixed blade also gives you double-duty use with its razor-sharp stainless steel blade edge and heavy-duty sawback spine. The cast metal handle has finger grooves and a knuckle guard so that you have complete control of the knife, especially, in wet conditions. As with the Jungle Survival Knife, this knife has a precision compass built into the pommel and a mini survival kit tucked inside the handle. The kit includes sewing needles, band-aids, matches, a surgical blade, magnifier, fish hooks with line and a sinker. It doesn't stop there. The heavy-duty nylon sheath that it comes with also holds a can opener, sharpening stone, animal snare, snakebite kit, and a flashlight. From the powerful blade to the survival gear included, you can rest assure that all bases are covered with the Bushmaster Ultimate Survival Knife!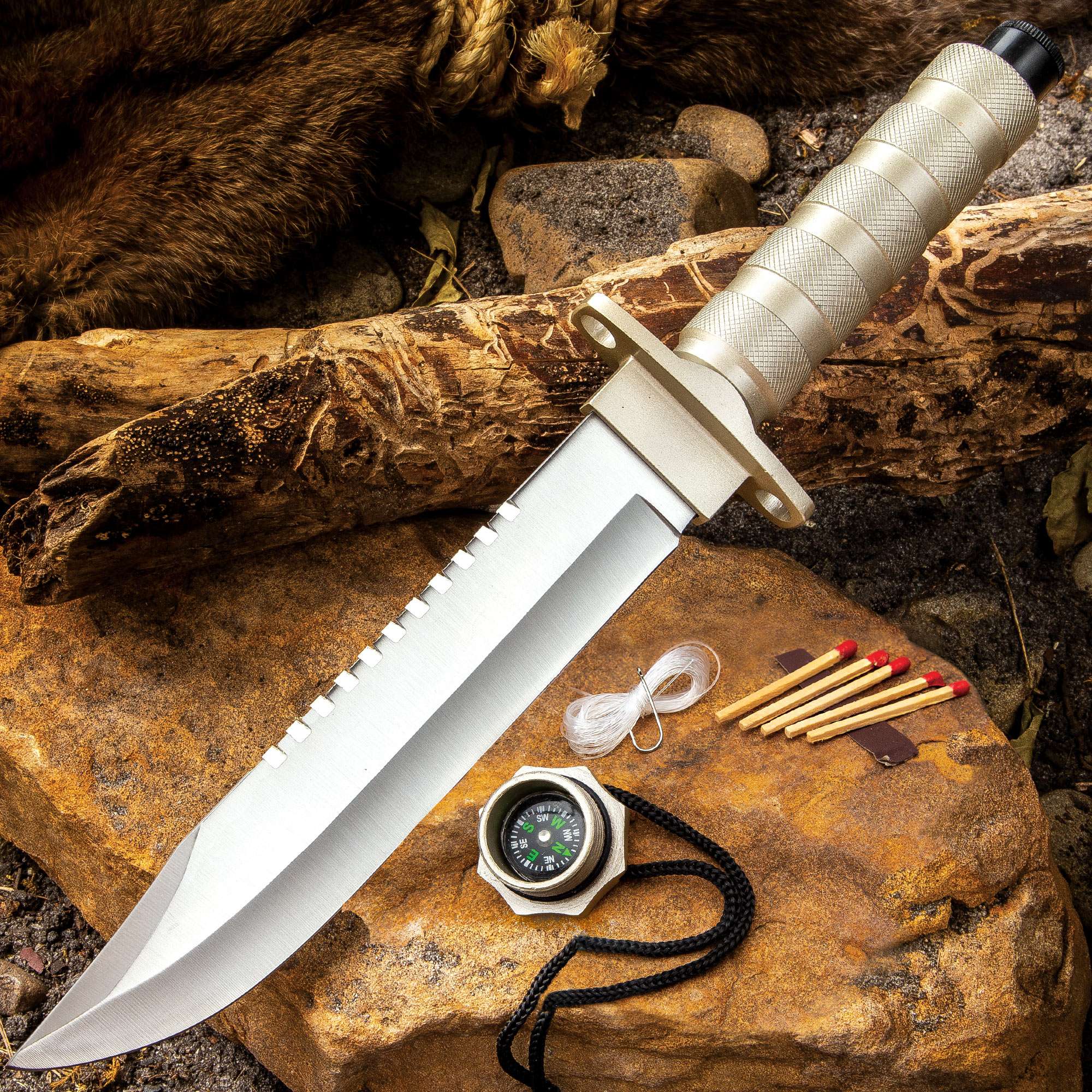 What I like about the All-Terrain Survival Knife is that, even though it's carrying extras, the aluminum handle makes it really lightweight. You'll hardly notice that you're carrying this fixed blade in your gear or at your side. So, starting with the aluminum handle, you'll find that the grid-textured and ridged surface makes it almost impossible to lose a grip on and the hollow handle gives you a secure, waterproof place to store essentials like money, jewelry, important documents or even a mini survival kit. The screw-top butt-cap has an O-ring seal and there is a compass hidden underneath the cap. The handguard is also aluminum, keeping the overall weight down, and it features two lashing holes. The stainless steel clip point blade is as sharp as the get and it has the requisite sawback spine. You never know when you might need to hide some small but essential item and I can't think of a better place than in your All-Terrain Survival Knife!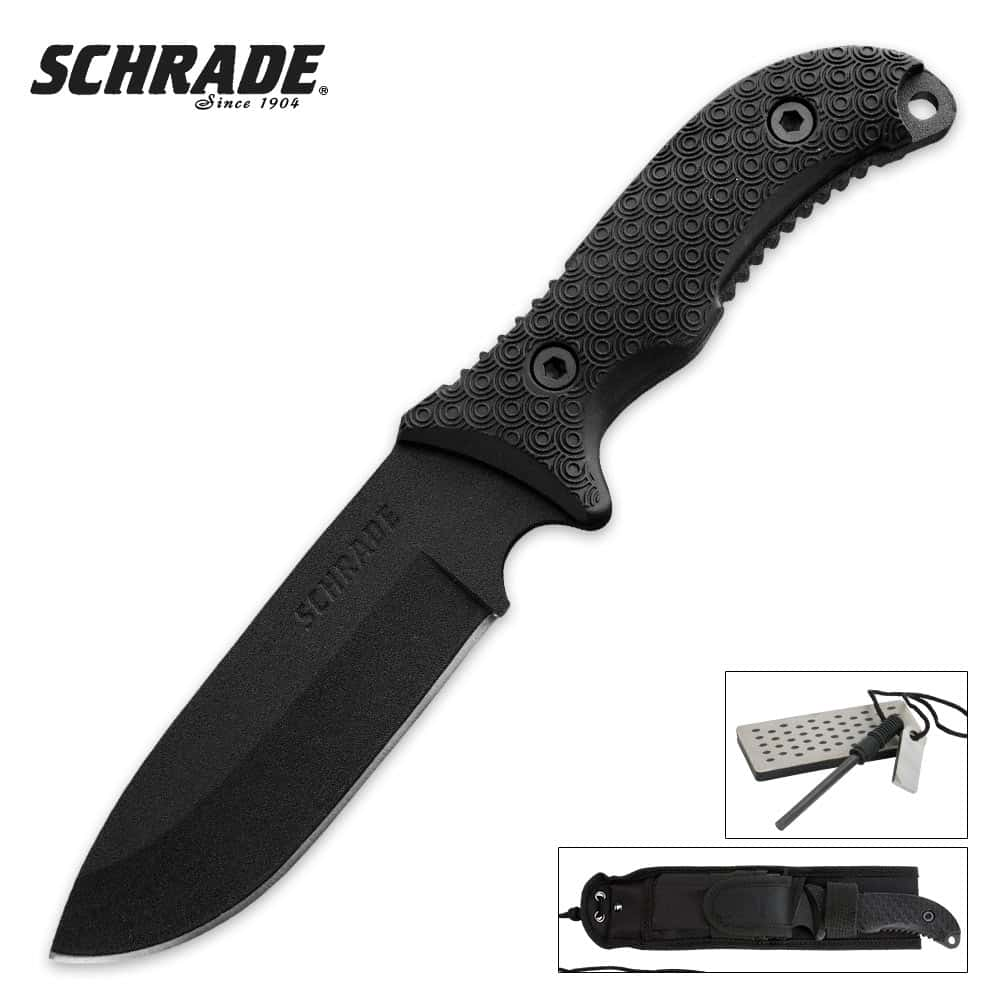 Now, the Schrade Frontier Extreme Survival Knife is a little smaller than the knives above but that means absolutely nothing! It will tackle all of your outdoor or survival chores with the same power and longevity with it hefty, full-tang 1095 high carbon steel blade that's finished with a black powder-coat. The textured TPE handle provides a rugged, slip-free grip with spine jimping and the exposed tang of the blade has a pre-drilled lanyard hole. Also included with the Schrade Frontier Extreme Survival Knife is a ferro rod and sharpening stone, which are stored in a special pouch on the nylon belt sheath.