Skip to main content
Skip to footer
Date Published: 2020-04-22
The Power Of The Sun Is Yours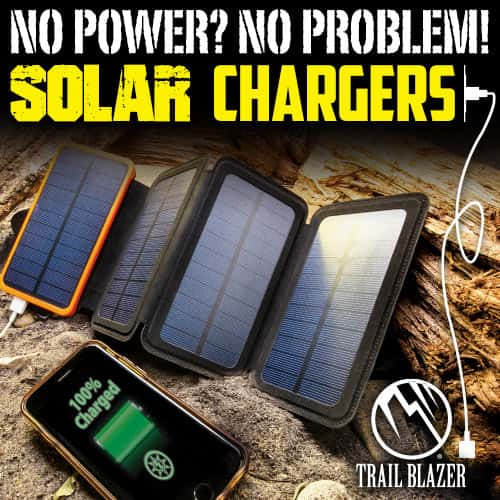 By Adelia Ladson
We depend on electricity way too much and we take for granted that it will always be available to us. Our entire lives are built around it but there may come a day, whether through a natural disaster or a man-made disaster, that the source we count on is gone. There is one source of power, however, that you can always count on no matter what happens down here on earth – the sun.
Here, at CH Kadels, we are prepared for that scenario and have a variety of solar-powered products to put the power of the sun in your hand. Really, one of the first things, even before charging your mobile phone, that you need to think about is having a reliable source of light at night. One, that you don't have worry about accidentally setting your house on fire with and is safe around children and pets. One of my favorites is the Trailblazer LED Solar Emergency Hanging Light Bulb. The beauty of it is that it works just like a regular 12-watt bulb when screwed into a traditional power source but when the electricity goes out, you can count on it to still be burning bright. Now, just think about that, for a moment. If you replace a couple of your light fixture bulbs in your house with these solar-powered bulbs, you will never be in the dark! The sensor in the battery recognizes that there is no current and will automatically switch over to its emergency mode, putting out the same 500 lumens of light from its bright LEDs. It will run for over eight hours on a full charge when it switches to emergency mode and the battery continually charges with its solar panels and also with the normal current running through your light fixture. I have one in my windowless bathroom because the worst scenario for me is to be caught in the shower in pitch black, which is what my bathroom is when the lights go out. With its tough, water and dust-resistant ABS construction and screw-on hanging hook, this solar powered light bulb is also perfect for hanging in a tent when you're camping or using it anywhere you need light like when you're working under the hood of your vehicle. Truly, this is one of the most versatile light bulbs that I've ever seen!
Another great solar-powered light is the Trailblazer Tri-Folding Solar Camping Light. The propeller-shape and hidden hanger design of the light allows you to either hang it or set it on a table or counter wherever light is needed. So, obviously this light is the perfect choice for camping, but in a black-out scenario, having one of these to put in each room will guarantee that you have a well-lit home. The solar-powered light has three lighting modes including an SOS mode, so that it can even be used as an emergency signal, if need be. The three, 18-LED light panels can be adjusted independently to direct the light towards a specific direction so that it completely conforms to your lighting needs. On the back of each of the panels is a solar grid to continuously charge the lithium battery, which can also be fully charged via the built-in micro USB port with the included cable. Now, that brings me to the next think you need to think about when your traditional power source is gone, which is charging and powering your necessary electronics like your mobile phone and emergency radio.
We have a variety of solar charger and power bank combinations that will assure you that won't be without juice whether you're bugging-out or sheltering-in-place. All of them are compact enough to just pick up and go with or to keep on a window sill or kitchen counter. The 10,000 mAh Folding Solar Charger And Power Bank has four crystalline silicon solar panels and a powerful Li-polymer battery that can also be charged in a non-emergency situation via a USB cable. Blue indicator lights let you know when the heavy-duty power bank is fully charged. Another great feature, especially if you take it camping, is that it has a built-in, super bright emergency LED light so that it can be used as a flashlight. Of course, the most important feature is that it has three USB ports including a micro-USB port so that you have plenty of outlets to charge your electronic devices. No one has to wait their turn! However, if you would rather every family member have their own charger and power bank, we have a great smaller model.
The BugOut 8,000 mAh Solar Charger And Power Bank, just like its big brother, can be used to charge anything from iPhones and Androids to iPads and tablets. It has a monocrystalline solar panel built into a water and shock-resistant silica gel and ABS case. Believe me it's tough! It also has indicator lights to let you know when the Li-polymer batter is fully charged and a built-in, emergency LED flashlight. It has both a standard USB charging port and a USB micro port and, with the included carabiner, it can be conveniently attached anywhere. Seriously folks, if you don't have one of these solar chargers and power banks in your home, you really aren't prepared for a disaster! The first thing that is lost in any kind of disaster is electricity and there are many things that use electricity that we can survive without. Having a reliable source of light and a source of communication is not one of those things!
Shop All Solar Powered Devices Here
Related Products