Skip to main content
Skip to footer
Date Published: 2020-05-06
NEBO Will Light Up Your Life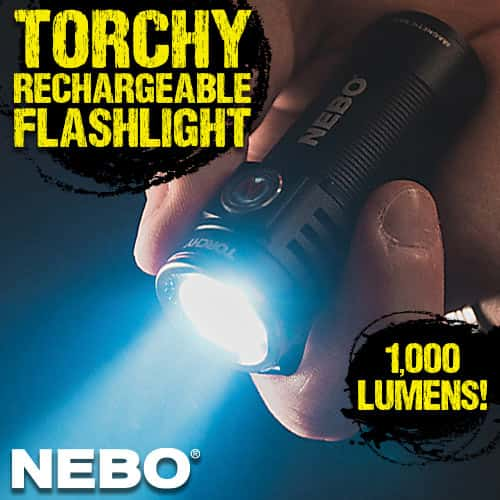 By Adelia Ladson
One of the most important tools that you have in your home, your camping gear, on your boat or in your bug-out bag is a flashlight and, bottom line, it needs to work when you need it. So, that being said, you need a NEBO for too many reasons for me to list here! Replace your cheap, one-function flashlight, right now!
NEBO lights are winners, hands-down! They're innovative, user-friendly and packed with practical features. Every day, at their home base in Fort Worth, Texas, NEBO designers and engineers work to create new products that will out-perform all others and give you the best lighting option for any situation. Since we only stock the best for our customers, we have lots of NEBOs to choose from. Here are a few of our favorite options.
The Redline Rechargeable Flashlight is a powerful, rechargeable flashlight that can take the abuse of using on a job, a mission or at home. The powerful 6,000 lumen flashlight, with its optimized COB lights, is housed inside of an aircraft grade, anodized aluminum body that's water-resistant, making it perfect for your fishing or camping trip. Or when your dog gets out of the house, at night, during a rain storm and you have to chase it down. This is truly a powerful flashlight that features a 4x adjustable zoom and it has four light modes including strobe for emergency signaling and it can be seen for up to 219 meters. One of the most efficient features is that the Redline is powered by a rechargeable battery via a micro USB to USB charging cable.
The Inspector Pocket Light is not your average, run-of-the-mill pen light that you might see in a convenience store. This little but powerful 180-lumen NEBO has an innovative design with three light modes and a 3x adjustable zoom that gives you the perfect amount of light for any situation. There is also a strobe for emergency signaling and it can be seen for up to 84 meters. Think about having that if you're stranded on the side of the road at night or get lost while hiking. The water-resistant pen light takes up virtually no room at all and a has a removable steel clip so that it can be attached just about anywhere.
Changing gears into work lights, here are a couple you'll really like! The Nebo WorkBrite Flashlight adapts fully to your work environment, making it the handiest and most versatile of work lights. Whether you are under the hood, under the sink or just out in the dark, the WorkBrite works great for any application. What you're getting is both a 200-lumen COB LED work light and a 100-lumen flashlight, all in one. Then they added a rear, emergency red flasher LED to further increase its usefulness. Like I said, NEBO is always innovative! What I really like about this light, though, is that it gives you three hands-free lighting options with its hanging hook, 200-degree pivoting stand and magnetic base.
Small enough to fit in the palm of your hand, the Nebo Rebel is a powerful light that "rebels" against its size with its impressive 600-lumen output! It is so versatile, offering hands-free options including an adjustable head lamp, a rotating removable steel clip and a powerful magnetic base. This is really the perfect work light with its water and impact-resistant anodized, aircraft-grade aluminum case that's ready to take the abuse of any working environment. You get four lighting modes with the powerful work light including a strobe for emergency signaling that can been seen up to 90 meters. And, again, I love the efficiency of the rechargeable battery that can be charged via a USB to Micro USB cable.
Shop All Nebo Here
Related Products